About Research
Cell growth, tumorigenesis and senescence
Our research is concentrated in the following areas:
1.Tumor heterogeneity
Recent studies suggest that a subpopulation within the tumor mass, called cancer stem cells, has high tumorigenic potential. Therefore, cancer stem cells could be critical targets for cancer chemotherapy. We are focusing our investigation on the elucidation of the molecular mechanisms of cancer stem cell self-renewal and differentiation. We are  also analyzing the interaction of cancer stem cells with immune cells and cancer-sociated fibroblasts.
2.Analysis of long-lived mutant mice
Mice deficient for D8 live longer than wild-type mice. We are investigating the role of D8 in aging and senescence.
3.Autism and socio-emotional learning
The onest of autism is thought to be closely tied to the dysfunction of the amygdala, but the molecular mechanisms liking the impaired function of this region to autistic behavior are not well-understood. We are exploring the functions of the autism-related protein PX-RICS in emotional learning in the amygdala.
Single cell analysis of tumor heterogeneity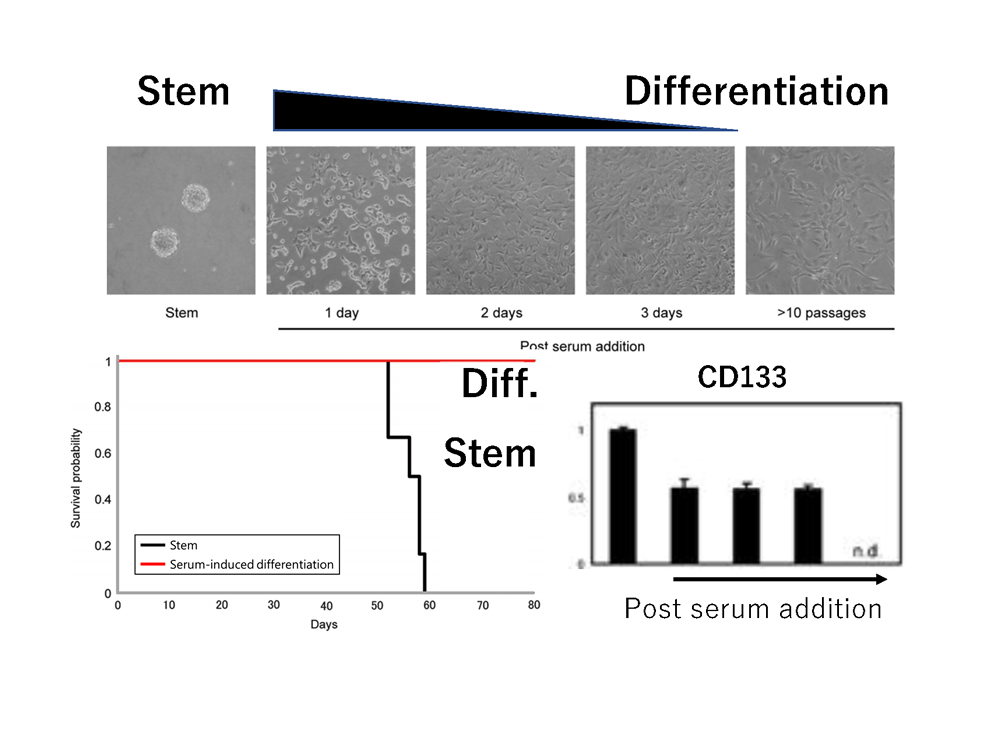 Glioblastoma stem cells lose their tumorigenic capacity under serumcontaining culture conditions.