About Research
Elucidation of intercellular interactions relevant to liver regeneration and fi brosis in liver diseases.
Liver is known to regenerate upon drug-induced acute injury or hepatectomy. However, when liver suff ered from prolonged viral infection or alcohol intake, impaired regeneration could cause fi brosis with excess collagen accumulation in the liver, eventually leading to cirrhosis and carcinogenesis. Liver is composed of hepatocytes and non-parenchymal cells including sinusoidal endothelial cells, hepatic stellate cells, biliary epithelial cells, blood cells and so on. Although these cells communicate adequately with each other at steady state, forming "cell society", disordered communication could cause severe disease state. Therefore, we focus on the pathology of non-alcoholic steatohepatitis (NASH), and aim to elucidate the cell-cell interaction involved in the regulation of each progression step from hepatic cell death to carcinogenesis. For the purpose of developing novel therapy and regenerative medicine in chronic liver diseases, we especially promote research on two liver remodeling, i.e. 'liver fibrosis' and 'liver stem/progenitor cell-mediated regeneration'.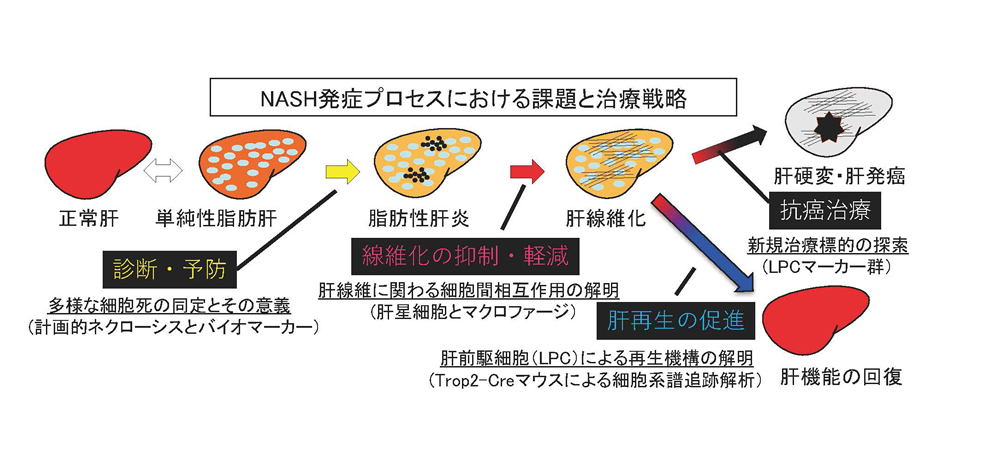 We have focused on the pathology of NASH and set four research subjects: 1. Programmed necrosis. 2. Cell-cell interaction between macrophage subsets and hepatic stellate cells. 3. LPC-mediated liver regeneration. 4. LPC markers as a candidate for therapeutic target of iver cancer.