About Research
We are who we are because we remember and forget
"Learning and memory are two of the most magical capabilities of our mind. Learning is the biological process of acquiring new knowledge about the world, and memory is the process of retaining and reconstructing that knowledge over time. Most of our knowledge of the world and most of our skills are not innate but learned. Thus, we are who we are in large part because of what we have learned and what we remember and forget." Eric Kandel et al., 2014, Cell.
Drosophila can form an association between a particular odor and an electric shock, acquiring a conditional avoidance response to the odor. This is a simple form of memory termed aversive memory. Similarly, Drosophila can form a memory by associating an odor with the taste of sugar in a process called appetitive memory. The research in my laboratory focuses primarily on the question of how and where a memory is formed, stored and retrieved in the Drosophila brain. The study of Drosophila olfactory learning offers the advantages of simple eural circuits and advanced molecular genetics, allowing us to identify the synapses that provide plasticity and transduce critical signals. We are currently focusing on the neuropile called the mushroom body, which is thought to function as a coincidence detector during olfactory learning. The mushroom body consists of many types of neurons. Each plays a role in a different step of memory formation— for example, acquisition, consolidation and retrieval—and in a different context indicating that memory formation can be divided into several stages and that each of these stages is performed by a distinct unit. Our projects include identification of the cellular and molecular mechanisms underlying these processes. To this end, we utilize various strategies and techniques, such as behavior assay, optogenetics, functional imaging and electrophysiology.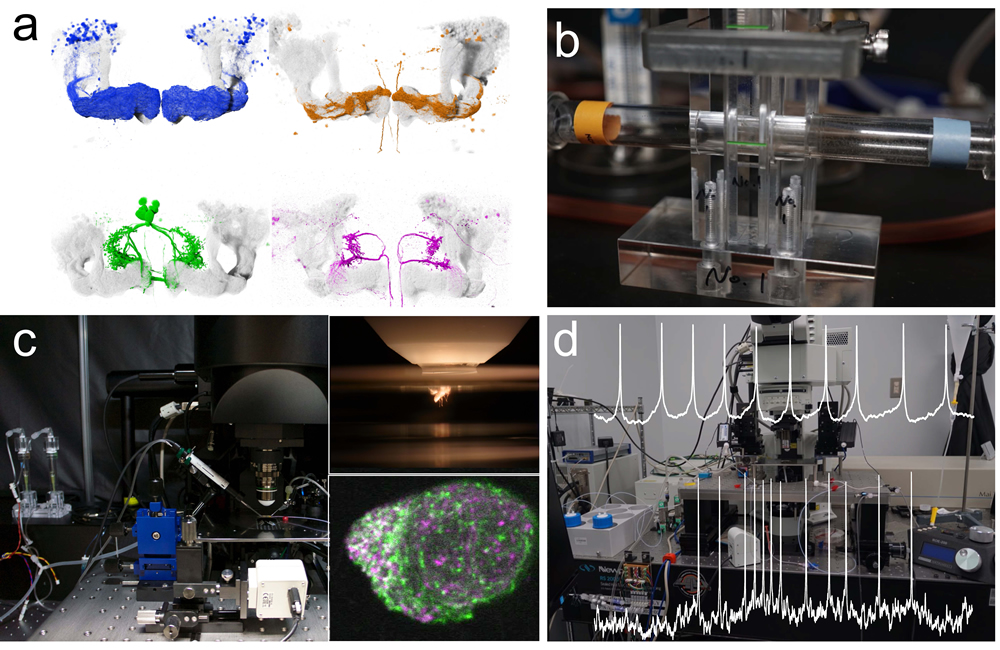 a) Kenyon cells of mushroom bodies and their output neurons play a central role in the olfactory memory formation. b) The performance of olfactory memory is measured with a T-maze apparatus. c) Neuronal activity is recorded under a two-photon microscope. d) Electrophysiological recording of neuronal activity.